NatureBridge, Director (Mid-Atlantic)
ABOUT AUTUMN
Autumn Saxton-Ross, PhD, is a resident of the District of Columbia and is currently the Mid-Atlantic Regional Director for NatureBridge, overseeing programs at Prince William Forest and Shenandoah National Parks in Virginia. NatureBridge is a residential environmental education non-profit that fosters environmental literacy to sustain the planet, working in five National Parks across the county.
In her previous position as the Program Director for Place-based Initiatives at the National Collaborative for Health Equity, she worked to encourage the use of policy and environmental change as a solution to health inequities, focusing on communities of color. She managed the Kellogg funding PLACE MATTERS initiative- a national learning laboratory that builds the capacity of local leaders to identify and address the social, economic, and environmental conditions that shape health, opportunities and resources and promotes innovative strategies to address those conditions in order to create a national health equity movement.
Previously, she has been the, the Physical Activity, Nutrition and Obesity (PANO) Specialist for the DC Department of Health and the Assistant Director for Health in Parks for Washington Parks & People. In those positions, she focused on environmental and policy approaches to healthy eating and active living and promoting the natural connection between parks, recreation and health. Prior to receiving her doctorate, she was the Health and Wellness Coordinator for both Montgomery County and DC Recreation departments, taught Women's Health for Howard University and was an Elementary Physical Education and Health teacher for DC Public Schools.
With degrees in sociology, health education, and exercise science, her research, academic and professional interests are on the social and physical environment and their influences on physical activity, opportunity and resources, specifically in Black and urban populations, and the health benefits of parks and green spaces. Her life's work is improving the health of communities through engagement, activity, education, exposure and opportunity, truly believing that a healthy life is lived better outdoors.
AUTUMN'S SESSION
Keynote: The Crap Shoot of Life: What Causes Inequities & Where Your Power Lies- Autumn Saxon-Ross
By now, we all are aware of inequalities, but what causes them? Through an interactive game, we will examine how inequitable treatment based on race, ethnicity, gender, sexual orientation (and the other socially created "boxes" we put people in) create differences in opportunities and resources, and how these differences manifest. We will then examine what causes those differences in opportunities and resources and challenge ourselves to use whatever power or privilege we have, to intervene.
Friday November 1 at 9 am. One day tickets available here.
Great Outdoors Colorado, Director of Programs
ABOUT JACKIE
Over the course of nearly two decades in the grant-making industry, including 13 years at Great Outdoors Colorado (GOCO), Jackie has created, managed, and directed initiatives to impact others' lives. In 2015 she spearheaded the launch of Generation Wild, an unprecedented movement in Colorado to connect youth and families with the outdoors. Collaborating with the GOCO Board, stakeholders, partners, and constituents across the state has provided Jackie with a ground-up perspective of program development and grant management as well as in-depth strategic planning and direction experience.
As Director of Programs, Jackie currently directs GOCO's competitive grant programs and program staff. She is a convener who is passionate about facilitating partnerships across organizations, developing strong and supportive teams, and connecting people with opportunities that will help them grow personally and professionally.
Jackie received her bachelor's from Saint Michael's College in Vermont, was a 2016 fellow at the Harvard Kennedy School of Executive Education, and was selected by the Denver Business Journal as a 2019 40 under 40 award winner. When not at work, Jackie likes to spend time outside with her family, host dinner parties, go to concerts, and find her zen on a yoga mat.
JACKIE'S SESSION
Partnerships and Collaboration Tinkershop with Garrett Dempsey.
Thursday October 31 at 11:30 am.
Osprey Packs, Repair & Outreach Specialist
ABOUT PHILIP
A native of California, Philip started his outdoor career as a whitewater guide on the Stanislaus River and at Recreational Equipment Inc. (REI) as a full time employee. Starting in 1994 Phil worked for the National Outdoor Leadership School (NOLS) for more than 20 years. Starting in the admissions department he quickly moved to instructing whitewater kayaking, canoeing, and rafting; backpacking; backcountry skiing; and rock climbing trips throughout the Western United States, Kenya, and Tanzania. He also served as the school's Whitewater Program Director for 12 years in Vernal, Utah, and as Equipment Manager in Patagonia, Chile, for three years..
His passion for outdoor recreation, education and climbing has provided him with opportunities to travel, climb, and ski around the world including Denali, Kilimanjaro, and Mt Kenya. He makes sure that his outdoor career includes volunteer time and over the past two and half decades he has volunteered for several youth programs in the US and abroad, exposing young people from around the world to the natural environment. Working in the outdoor industry outside the US has provided him with opportunities to help bring technical skills training to guides and porters around the world. For six consecutive years, working with the Alex Lowe Charitable Foundation (ALCF) and the Khumbu Climbing Centre (KCC) in Nepal, he helped train Nepali trekking guides and high altitude mountain workers, imparting valuable climbing and leadership skills. In 2012 he was a member and team leader of the North Face/National Geographic Everest Education Expedition becoming the first African American born and raised in the US to attempt to summit Mount Everest. In 2013 became only the second African American to summit Denali (formerly named Mt McKinley). In 2018 he organized and lead an all African American ascent of Mt, Kilimanjaro.
Philip is married with one daughter and currently lives in Cortez, Colorado. He works as a repair and outreach specialist at Osprey Backpacks. He is an active skier, canoeist and mountain biker and has a strong passion for being outside and providing positive and inclusive opportunities for all people to get outside.
PHIL'S SESSION
Gear Repair Essentials - If the goal is to get people outside, then it's a given that outdoor gear will will take a beating. Even the most strong and sturdy will show signs of wear over time, and programs often spend lots of time on cleaning and repairing their gear to make sure it's ready for the next trip. As Repair & Outreach Specialist at Osprey Packs, Phil is an expert in gear repair and his seminar will demonstrate gear repair in the field and back at base. He will answer your questions regarding your biggest problems and concerns when it comes to gear repair. And he will also cover useful tips for recycling parts and reusing gear for a different purpose, which are essential skills for non-profit programs to get the most out of their gear. Session limit: 25 people.
Friday November 1 at 4 pm. One day tickets available here.
ABOUT KIM
With over 20 years of experience in strategic planning and community engagement, Kim Moore Bailey provides the leadership and vision that drives Youth Outside's work to ensure that young people who have been traditionally or historically underrepresented in the outdoor movement have the opportunity to connect with nature in culturally relevant and inclusive ways.
As Chief Executive Officer, Kim guides the overall strategic direction for the organization and supports the leadership team as they manage the organization's grantmaking portfolio, training and capacity-building programs, and on-going advocacy work.
Kim is a frequent speaker and thought leader on topics related to equity and inclusion in the outdoor and environmental fields. As a facilitator and trainer, she has supported many individuals and organizations in thinking about how to ensure that everyone has equitable access to nature and designing outdoor spaces and programming that supports this goal.
Before joining Youth Outside, Kim was the COO of College Possible, a national nonprofit focused on making college attainable for low-income students by creating more access points and opportunities for support. She also spent five years as a Vice President at Outward Bound where she was responsible for supporting and growing Outward Bound's urban programs across the country and worked as the Manager for Denver Parks and Recreation.
Kim received her Bachelor of Science from Northeastern University and her Master's Degree from New York University in Counselor Education. She also participated in Harvard University's Kennedy School of Government Senior Executives in the State and Local Government program, and pursued additional educational opportunities at the University of Illinois and the University of Colorado. Kim serves on the Board of Directors for the Environmental Grantmakers Association, the Children & Nature Network, the North American Association for Environmental Education, and the Blue Sky Funders Forum. She also Co-Chairs the Bay Area's Environmental Education Funders Collaborative and serves on the Environmental Literacy Steering Committee for the state of California.
Away from work, Kim enjoys spending time with her loved ones, yoga and being outdoors.
KIM'S SESSION
Outdoor Access Together - A new partnership between Latino Outdoors, Youth Outside and Outdoors Empowered Network. A presentation will be followed by a workshop to allow members to better understand how to utilize these national programs for the biggest impact in their own communities. With Natalia Ospina & Kyle Macdonald.
Saturday November 2 at 9 am.
Paradox Sports & Ignite Adaptive Sports, Program Manager
ABOUT AMY
Born and raised on the east coast, Amy found her love for the outdoors in the White Mountains of New Hampshire and on the coastal shores of Rhode Island. It was not long afterwards that she discovered the value and impact of adaptive outdoor recreation during her time as a volunteer for the Adaptive Sports Partners of the North Country in Franconia, New Hampshire.

Fueled by her new-found passion for making outdoor sports accessible and inclusive to all, Amy moved to Arizona where she went on to complete her B.A in Outdoor Program Administration at Prescott College. While completing her degree, she worked closely with the founder of Northern Arizona Adaptive Sports Association (NAASA) to develop a robust volunteer program that supported the growth and demand for adaptive outdoor opportunities in Northern Arizona.

Amy currently serves as the Program Manager for Paradox Sports and Ignite Adaptive Sports. In her role, she seeks to develop and broaden recreational opportunities and accessibility for people with disabilities in the Front Range of Colorado. The collaboration between Paradox and Ignite unites Colorado adaptive communities while providing year-round opportunities in the outdoors - from the cliffs to the slopes.

Amy holds certifications as an AMGA Single Pitch Instructor, Apprentice Rock Guide, Wilderness First Responder and holds an Adaptive Level II Certification with the Professional Ski Instructors of America (PSIA).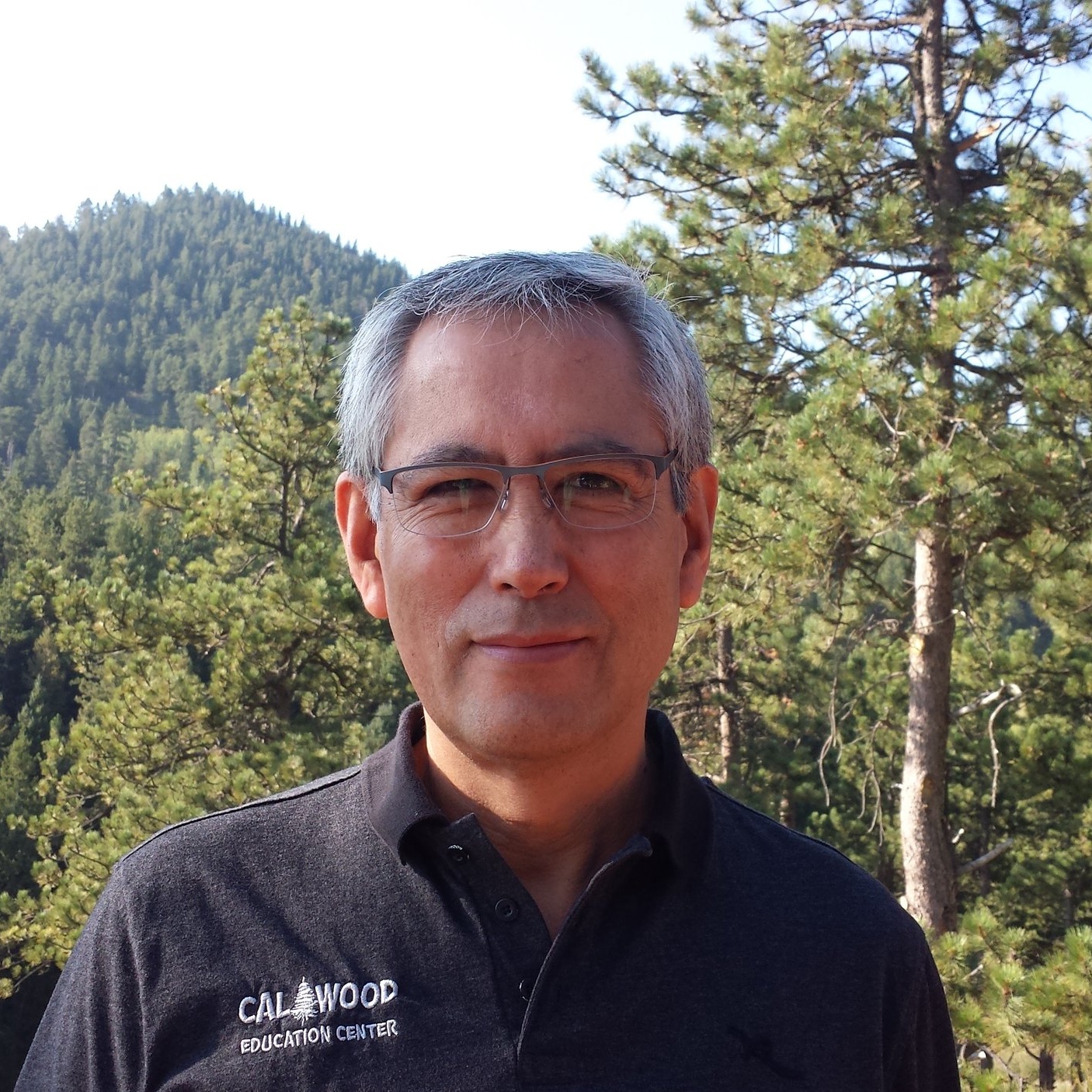 Cal-Wood Education Center, Executive Director

ABOUT RAFAEL
Rafael has served as Cal-Wood's Executive Director for 17 years. Prior to Cal-Wood, he worked as a range scientist and wildlife biologist in Mexico and as a professor at Antonio Narro University in Mexico. Working for the Texas Parks and Wildlife Department, he trained volunteer instructors for Project Wild, an internationally recognized environmental education program, and for Hunter and Angle Education programs. In Mexico, as the state of Coahuila environmental education director, he developed a large environmental education program, training more than 6,000 teachers and creating 1,000 green schools. Rafael was a faculty member of the Bilingual ESL Network in Colorado, a member of the advisory committee of the national Project Learning Tree, and a board member of Thorne Nature Experience. Rafael's excellence and leadership has been recognized with national and local awards.
RAFAEL'S SESSION
Cal-Wood and Inclusive Instructional Techniques
Thursday October 31 at 7:50 pm.
Detroit Outdoors, Program Director
ABOUT GARRETT
Garrett Dempsey is the lead Sierra Club staff with Detroit Outdoors. His experiences growing up in San Francisco and organizing with communities in Oakland, California have shaped his passion for connecting urban youth with the outdoors and nature. Garrett is passionate about equitable access to nature and expanding the definition of what makes people conservationists and outdoor enthusiasts. Garrett is also the volunteer chair of the Sierra Club Detroit Inspiring Connections Outdoors program and he serves on the Executive Committee for the Sierra Club South East Michigan Group.
GARRETT'S SESSION
Partnerships and Collaboration Tinkershop with Jackie Miller.
Thursday October 31 at 11:30 am.
Latino Outdoors, Co-Program Coordinator
ABOUT NATALIA
Natalia is a co-program coordinator for Latino Outdoors Colorado. She is a health educator, herbalist, and lover of the outdoors. In her free time she enjoys taking people outside, climbing, and spending time with loved ones. Natalia is passionate in helping rewrite the narrative of who can be outdoors and making the outdoors a safe and accessible environment for all.
NATALIA'S SESSION
Outdoor Access Together - A new partnership between Latino Outdoors, Youth Outside and Outdoors Empowered Network. A presentation will be followed by a workshop to allow members to better understand how to utilize these national programs for the biggest impact in their own communities. With Kim Moore Bailey & Kyle Macdonald.
Saturday November 2 at 9 am.
Outdoors Empowered Network, Founder & Executive Director
ABOUT KYLE
Mr. Macdonald is most known for his work as founder of Bay Area Wilderness Training (BAWT). His experience in the outdoors began as a youth, on family camping and ski trips in the Northeastern United States. This experience brought him to work in 1993 with the Appalachian Mountain Club where he worked for five seasons, maintaining backcountry facilities and leading groups of youth and adults in Maine and New Hampshire. He has worked in education as a classroom teacher in New Orleans and with urban youth in Boston, Detroit, San Francisco and Oakland.
While at BAWT, he was recognized by Stanford University's School of Education for valuable contributions and outstanding service to the education of low-income children and youth. Additionally, BAWT was recognized by the West Region Association for Experiential Education (AEE) for exemplary program work within the field and nominated by the Outdoor Retail Industry for an industry award in the non-profit category. Mr. Macdonald was nominated in 2013 as a White House Champion of Change- The Next Generations of Conservation Leaders.
Mr. Macdonald works regionally, with the Bay Area Children and Nature Collaborative, nationally, supporting the The Children and Nature Network, and internationally, as an advisor to Global Trails Alliance. He lives in San Francisco's Portola neighborhood with his wife and two children, where he particularly loves exploring San Francisco's McLaren Park.