Detroit Outdoors amongst those Honored at the Annual OAK Award Ceremony
November 2018- Washington, D.C. — Today, the Outdoors Alliance for Kids (OAK) announced the recipients of the 2018 "OAK Awards." Awards were offered to a bipartisan and bicameral group of lawmakers including Senators Lamar Alexander (R-TN) and Mazie Hirono (D-HI) and Representatives Mike Turner (R-OH) and Raúl Grijalva (D-AZ). Several OAK member organizations and individuals received awards during the annual meeting of the Alliance, including Blue Star Families, youth activists Robbie Bond and Joseph Goldstein, and the Detroit Outdoors project.
The "OAK Awards" are bestowed annually on bipartisan decision-makers and OAK members for significant contributions in advancing opportunities for children, youth, and families to learn, get active, and serve in the outdoors.
"Every single one of these individuals is being recognized because of the huge difference they are making to ensure that every kid in every community has access to the outdoors," said Jackie Ostfeld, Director of Sierra Club Outdoors and co-founder of OAK. "In the past year we have thwarted attempts to hike fees in our national parks; we have protected and extended a program that offers every fourth-grader the chance to visit those parks; and we have continued to make progress toward a world that recognizes the value of universal access to nature for our kids. Thank you to our award winners for all their hard work to make that world a reality." FULL PRESS RELEASE
National Poll Reflects: Nearly seven-in-ten Americans (68%) oppose the National Parks proposed Fee Increase
January 2018- Washington, DC- On October 24, 2017, the Administration announced a proposal to raise entrance fees in our National Parks. Through a public comment process, OAK has urged the Administration to protect access to America's national parks and public lands for all children, youth, and families by withdrawing its proposal to increase entrance fees at 17 national parks.
National Poll Results
In December 2017, OAK commissioned a bipartisan national poll to better understand views of raising national park entrance fees. The bipartisan poll results demonstrate that the public has major concerns with the proposal. The proposed fee increase would affect some of the U.S.'s most beloved parks including Yellowstone, Shenandoah, and Joshua Tree. Entrance fees would more than double, increasing to $70 per vehicle. READ THE FULL PRESS RELEASE AND POLL RESULTS.
LET YOUR REPRESENTATIVES KNOW HOW YOU FEEL ABOUT YOUR PUBLIC LANDS!!
Outdoors Empowered Network Welcomes the Appalachian Mountain Club's Youth Opportunities Program
SAN FRANCISCO/BOSTON – November 16, 2017 – The Outdoors Empowered Network, the first national network providing youth workers with wilderness leadership training and access to outdoor gear libraries, welcomes the Appalachian Mountain Club's (AMC) Youth Opportunities Program as its premier partner in the Northeastern U.S. region.
Founded in 1968, AMC's Youth Opportunities Program (YOP) has the distinction of being the first program in the U.S. to employ the model of increasing access to the outdoors through training and supporting youth workers and teachers, enabling them to foster impactful and relevant outdoor experiences for their youth. Through outdoor leadership training, trip planning, and access to gear lending libraries, YOP supports organizations and schools in urban and under-resourced communities that historically have faced barriers to outdoor recreation.
With program offices in Boston and New York City, YOP joins the Network's member organizations in the Los Angeles, San Francisco, Austin, Chicago, Leadville (CO) and Seattle metro regions in working to increase much needed access to nature for youth. In 2018, the Network collectively expects to train over 500 leaders and empower 45,000 youth participants to experience the outdoors through immersive outdoor adventures. Read more: FULL PRESS RELEASE
Forest Preserve District of Cook County Joins Outdoors Empowered Network: Chicago launches Camping Leadership Immersion Course to get kids outdoors

SAN FRANCISCO – January 25, 2016 – Outdoors Empowered Network (OEN), the largest national network of Member Organizations through which educators and youth leaders have access to wilderness training and free outdoor gear libraries, welcomes the Forest Preserve of Cook County (FPCC), of Chicago, Ill., as the first member program in the Midwest. Chicago joins Los Angeles, the San Francisco Bay Area, Boise, and Seattle in a growing number of cities with programs increasing much needed access to nature for youth. In 2015 alone, OEN's programs have trained 318 youth leaders and empowered 10,000 youth participants to experience the outdoors through immersive backpacking and camping trips. Read more: FULL PRESS RELEASE
The Network was reported on in Sierra Magazine!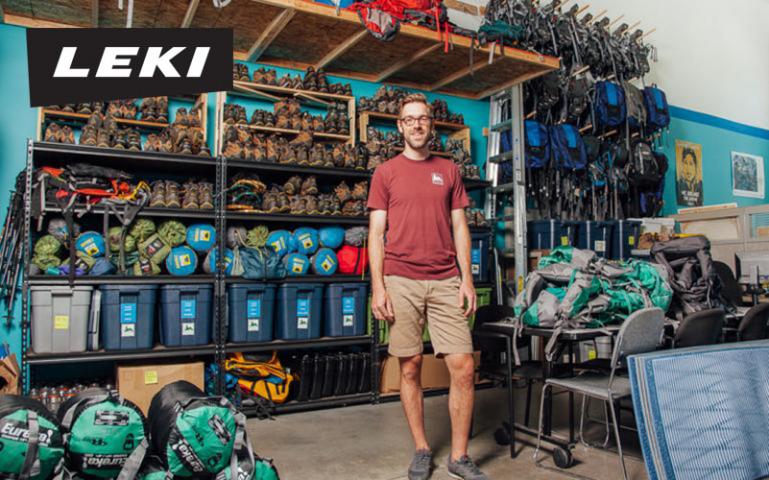 Gear libraries are making it easier for more kids to get outdoors.
In case you missed it above, here's a list of our past newsletters for your reading pleasure!